STORM UPDATES
CHARGING STATION available inside Hebron Town Office, 15 Gilead St., during business hours. Inside via front entrance, outside on picnic table. Please bring mask and practice social distancing. The charging station outside in front of the Town Offices will be available 24/7 until power is restored. Please adhere to COVID-19 guidelines. Please also be mindful of others while using this service. Thank you.
NON-POTABLE WATER available at Hebron FD on Main St. Outside spigot on right side (police office side) of building. *Please note that the hose is handled by others so take COVID precautions: wash hands before/after use, boil water for 1 minute before using for cooking, personal hygiene, etc.*
The Hebron Transfer Station will be open regular hours.
Tuesday, Thursday and Saturday 8:00 a.m. – 4:00 p.m., Sunday 8:00 a.m. – 2:00 p.m.
BRUSH DISPOSAL IS AT NO CHARGE.
UPDATE FROM EVERSOURCE:
ESTIMATED TIMES OF RESTORATION FOR HEBRON: Tuesday, August 11 by 6:00 a.m.
Estimated Times of Restoration reflect the day and time when Eversource will complete restoration for the vast majority of our customers, although small or individual outages may still remain. Substantially complete means that we have restored power to the majority of customers and less than 1% of the community remains without power, including individual customers where additional on-site work is required.
CT RESIDENTS ARE URGED TO KEEP PORTABLE GENERATORS OUTDOORS AND AT LEAST 20-25 FEET AWAY FROM THE HOUSE; CHARCOAL GRILLS OR OTHER FUEL-POWERED EQUIPMENT ONLY FOR OUTDOOR USE
With widespread power outages reported across the state following yesterday's storm, the Connecticut Department of Public Health (DPH) is warning residents about the dangers of carbon monoxide (CO) and urges them to take steps to prevent deadly CO poisoning. When power goes out, keep your portable generator outside when using it and at least 20 feet away from the house. Never use them inside of the house, on a porch, in a garage, basement, or shed. Even if garage doors are open, CO gas can build up to deadly levels within minutes.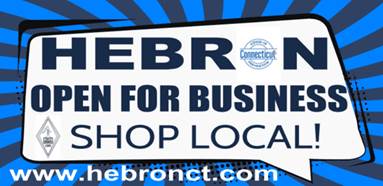 Connecticut Children's Medical Center Coronavirus Hot Line 1-833-226-2362
Connecticut Children's Medical Center Coronavirus Information
How are you feeling today? Please check in now: HOW WE FEEL
TOWN OF HEBRON
COVID-19 EMERGENCY INFORMATION
• The Town Office Building and Horton House will re-open to the public on Monday, July 6, 2020. Regular operating hours will resume. The Public is encouraged to conduct business by mail or electronically whenever possible. Visitors to the town offices will be required to wear face coverings, log in, maintain proper social distancing and follow all posted guidelines.
• The Town Clerk's office is providing all services electronically or by appointment. Our office has resumed regular office hours but continue to rotate staff in an effort to protect those in a high risk category and to support public health. Many of our services are available online and we are here to help you with your specific needs. Call our office with your questions or to make an appointment for an essential service during this temporary situation, 860-228-5971 x124.
• The Transfer Station/Recycling Center will be opening the lower section on Saturday 5/9/2020. Fees will be charged to the nearest $5 increment and exact change only. Expect long wait times as only two cars at a time will be allowed. Face masks and social distancing is required to enter the facility.
• All Hebron parks, playscapes, the skatepark and trails are open.
• Senior Center Congregate meals have been temporarily suspended.
• Home delivered meals program would continue with the following precautions – volunteers will leave meals at the door of the recipients' homes without having direct interaction between the volunteers and the recipients.
• All social services will continue to be provided (information and assistance, public benefits counseling, CHOICES counseling, etc.) employing appropriate social distancing and precautions.
• Dial-a-Ride has been suspended, unless absolutely essential.
• Friday, March 13, 2020, at 12:00 noon the Town Manager issued an Emergency Declaration.
• March 16, 2020 at 10:00 a.m. The Town of Hebron Emergency Operations Center opened in partial activation status.
For More Information Please Call (860) 228-5971
Hartford Healthcare Coronavirus Hotline:
Please refer to the following link for advice if you have questions about Coronavirus